Earthy recipes, rusty root veg and apple-y sweetness for dessert. This new season means new autumn menus in Irish restaurants…
It's that time of year when a flurry of new menus pop up, reigniting our love for autumnal dining. Dessert-wise, sharp, ripe apples are back – we can welcome tarte tatin, crumbles and pies back to our tables. Earthy veggies make a return in luscious, rusty colours – if the mood of this month is ripe, the food of this month is, too! A new season means new menus – here are some of our favourites…
Woodruff, Stepaside, Co. Dublin
The ethos at Woodruff is to cook with the seasons, sustainably source direct from farms, cure, ferment, and forage while minimising waste. To align with this, the menu changes every few days ensuring only the best of available produce makes it onto the menu. During September, expect to see dishes such as Andarl Farm ham hock and pistachio croquettes with kimchi mayo or Mayo Blackface lamb rump with hispi cabbage, fondant potato and Jerusalem artichoke and not a jaded palate in sight. woodruff.ie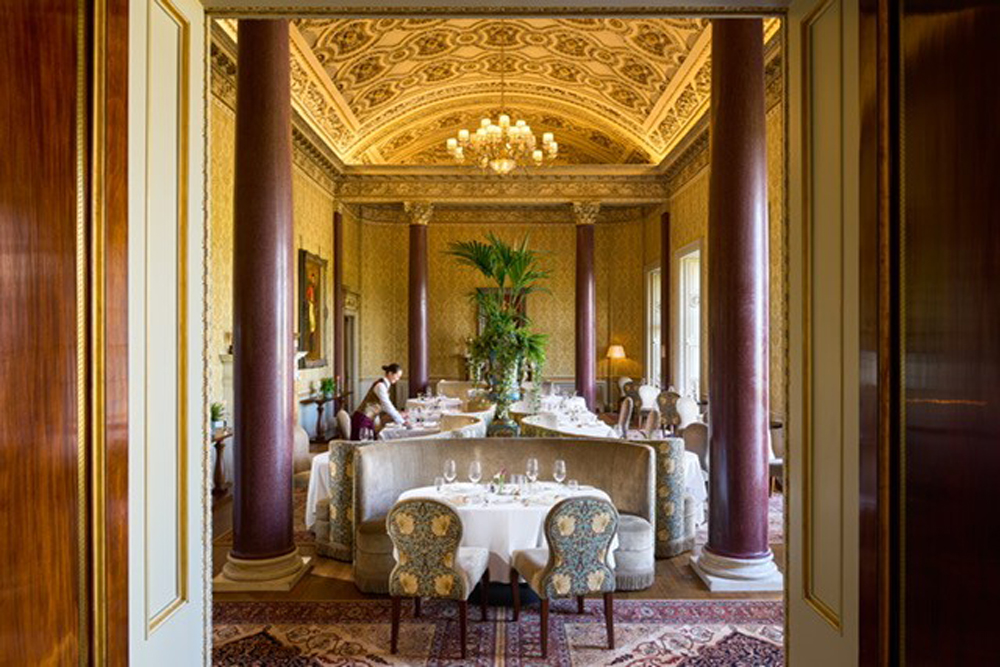 The Morrison Room at Carton House, Co. Kildare
With an opulent backdrop like no other, dining in The Morrison Room at Carton House is an experience in itself. A new autumnal Sunday lunch menu has just been launched and includes classics with a modern twist such as chowder with seared scallops, poached lobster, potato and parsnip and tortellini with wild mushroom, leek and burgundy truffle. Save room for the lemon custard tart with meringue ice cream. www.cartonhouse.com
Paulies Pizza, Grand Canal Street Upper, Dublin 4.
For a casual meal that ticks all the seasonal boxes, Paulies Pizza have just launched a new menu that is sure to tempt. The white wine poached pear with Gorgonzola, endive, cress, toasted walnuts and balsamic is one dish we look forward to trying but the butternut squash risotto with pea shoots and goat cheese sounds both hearty and fresh. When it comes to pizza, they are always in season so you can expect the same great quality pie from Paulies at any time of the year. www.paulies.ie
Lignum, Co. Galway
Having just returned from their summer break, the team at Lignum are back in action with a new 'larder' of goodies to tempt us from our autumnal slumber. Sample menus are not part of Lignums approach, instead, their online seasonal 'larder' will give you an idea of some of the ingredients that the kitchen team will be working with for the current menu. This month at Lignum, expect to see a bounty of produce including aubergine, artichoke, pumpkin, girolles and rapini in the vegetable department with seasonal fruits such as blackberries, Indian fig, elderberries and chestnuts also gracing the ever changing menu. For mains, lobster, mackerel, clams, shrimp and langoustines will appear over the next few weeks along with pork, dairy beef, duck, venison, rabbit and sweetbreads. You would be crazy not to… www.lignum.ie
The Old Couch Café, Waterford
Part Croatian and part Polish, Damira Levacic and Przemyslaw Muszynski of The Old Couch Café are fresh from their win in the 'Best Emerging Irish Cuisine' category at the recent Irish Restaurant Awards. The autumn menu at The Old Couch Café reads like a dream, with two menus to choose from, a 10 course tasting menu (€90pp) or a more concise 5 course tasting menu (€60pp). Both menus feature dishes such as the steamed bun with mushroom, red onion, dill, beetroot and plum and in the sweet stakes, grapefruit with wild Irish rose and thyme meringue. Damira and Przemyslaw are the only chefs in the business and also handle all reservations, social media and ordering related to the business. It's little surprise that they close every second weekend so plan accordingly. www.oldcouchcafe.com
In other news…..
In Glasthule, Cavistons new Restaurant and first floor Seabar opens next Thursday September 29th and the new menu is unsurprisingly seafood focused. Dublin bay prawn ravioli with dilisk butter sauce and marinated crab claws with garlic and lemon are just two of the dishes that we can't wait to try while those of a vegetarian persuasion will enjoy the Wicklow Bán cannelloni with roast cauliflower and seaweed. cavistons.com